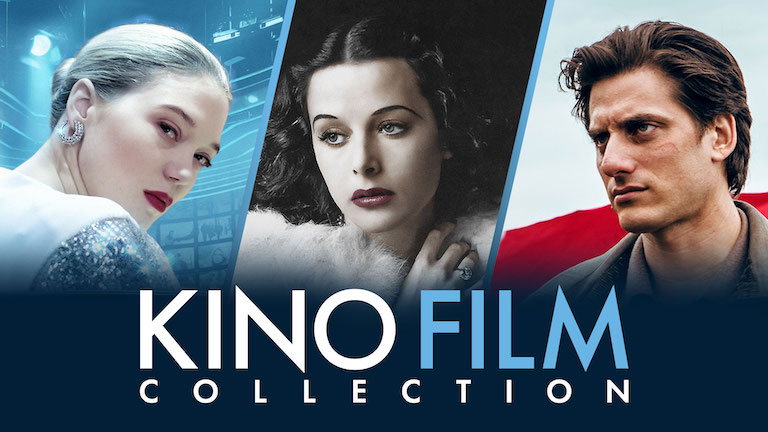 Acclaimed films from Todd Haynes, Yorgos Lanthimos, Hou Hsiao-Hsien, Christian Petzold, Lina Wertmuller, Ken Loach, Andrei Tarkovsky, Jafar Panahi, Taika Waititi, Oscar Micheaux, Susan Sontag, Jean-Luc Godard, Bruno Dumont, Jia Zhangke, Bernardo Bertolucci, Fritz Lang and more arrive on streaming, some for the first time.

Kino Lorber's recent acclaimed films Chile '76, Close to Vermeer, and new 4K restorations of The Conformist and Millennium Mambo arrive on streaming for the first time.
Kino Lorber, a leading name in independent film distribution for over 45 years, has launched
KINO FILM COLLECTION
, a new streaming service available in the U.S. on the Amazon Service via Prime Video Channels for $5.99 per month. The Collection will feature new Kino releases fresh from theaters, along with hundreds of films from its expansive library of more than 4,000 titles, many now streaming for the first time.
Films available at launch include award-winning theatrical releases and critically acclaimed hits and classics from around the globe including new 4K restorations of THE CONFORMIST (Bernardo Bertolucci) and key works by notable directors such as DOGTOOTH (Yorgos Lanthimos), TAXI (Jafar Panahi), POISON (Todd Haynes), GANJA & HESS (Bill Gunn), THE SCENT OF GREEN PAPAYA (
Tran Anh Hung),
A GIRL WALKS HOME ALONE AT NIGHT (Ana Lily Amirpour),
COMPUTER CHESS (Andrew Bujalski),
PORTRAIT OF JASON (Shirley Clarke), and A TOUCH OF SIN (Jia Zhangke). Joining them are entries from the long-revered Kino canon such as
METROPOLIS (Fritz Lang), NOSFERATU (F.W. Murnau), THE CABINET OF DR. CALIGARI (Robert Wiene), BATTLESHIP POTEMKIN (Sergei Eisenstein), BIRTHRIGHT (Oscar Micheaux) and
THE SACRIFICE (Andrei Tarkovsky), all presented in the best versions available anywhere. Rounding out the collection are popular and acclaimed documentaries like
BOMBSHELL: THE HEDY LAMARR STORY (Alexandra Dean), Academy Award®-nominated FIRE AT SEA (Gianfranco Rosi), GRACE JONES: BLOODLIGHT AND BAMI (Sophie Fiennes), and BILL CUNNINGHAM NEW YORK (Richard Press).
The Kino Film Collection will be updated monthly with regular streaming premieres of acclaimed films directly from theaters including
CHILE '76 (Manuela Martelli), FRAMING AGNES (Chase Joynt), BRAINWASHED: SEX-CAMERA-POWER (Nina Menkes), THE SUPER 8 YEARS (Annie Ernaux, David Ernaux-Briot), COSTA BRAVA, LEBANON (Mounia Akl) and THE WORST ONES (Lise Akoka and Romane Gueret), alongside curated treasures from the Kino library and cult film selections from the Kino vault to satisfy genre fans.
December streaming premieres will include a new 4K restoration of MILLENNIUM MAMBO (Hou Hsiao-Hsien), SONGS MY BROTHERS TAUGHT ME (Chloe Zhao), CLOSE TO VERMEER (Suzanne Raes), FINAL CUT (Michel Hazanavicius), BACURAU (Kleber Mendonça Filho, Juliano Dornelles), TOKYO POP
(Fran Rubel Kuzui), TWO SMALL BODIES (Beth B), and more.
Richard Lorber, President and CEO of Kino Lorber, said
"I'm excited about Kino Film Collection as a destination for our newest films fresh from festivals and theaters, as well as newly launched restorations of classics and curated selections from our vast library, many streaming for the first time. Over the last 45 years, we've introduced electrifying new films from directors at the vanguard around the world to American audiences, and built a library and brand synonymous with cinematic innovation, distinguished curation, and enduring quality. The Kino Film Collection will be the place to go to find the classics of tomorrow and the best of cinema past."
Lisa Schwartz, Chief Revenue Officer for Kino Lorber, who will oversee the service, said, "The creation of Kino Film Collection is the latest example of our continued commitment to independent film and to ensuring our incredible collection remains available for audiences nationwide. Many streaming services are currently undergoing a shift in their content focus and consequently many titles are becoming increasingly difficult to find. Therefore, we felt it was a business imperative to create a dedicated home where our films would be consistently available to film lovers. This curated collection allows us to highlight our successful new theatrical releases as well as repertory films and beautifully restored library classics."